AUGUST GUIDE: 32 AWESOME THINGS TO DO
New month, new marvellous Muddy guide to the best of Leicestershire and Rutland. Family festivals, lashings of outdoor theatre, creative workshops, carnival and more. Let's go!
Sample cuisine from around the world, enjoy a variety of activities, including live music, entertainment and lots more. The festival will feature over 45 vendors offering a range of national and international cuisine from pizza to paella plus, live music and fun for the kids too including a 120ft giant inflatable assault course. Can you handle it? Free to attend. 10am – 5pm.
Last chance to see the village of Heather's scarecrows, scores and scores of them. Expect celebs, some topical, many of them cheerfully daft, and all competing for the votes of the people who come from miles around to see them. Scarecrow Guides are available for £2.50 to help visitors find all of the scarecrows and vote for their favourite.
Piefest, Melton Mowbray, 6-7 Aug
Who ate all the pies? Well, head to the Rural Capital of Food over this weekend and you'll get to eat as many as you want from savoury to sweet, meat to veggie and everything in-between. While here, meet some of the UK's best pie makers and take part in workshops and tastings. Tickets £5. Kids 16 and under are free.
Cosby Yarn Bomb 2022 13 Aug – 4 Sept
Come along and see the beautiful village of Cosby decorated with incredible knitted and crocheted 'Make a Splash' themed installations, all created by the fabulous community. The Yarn Bomb will stay up for 25 days, it's all outdoors and completely free.
Roller Disco, Leics 3 – 10 Aug
Get yer skates on and enjoy some Roller Disco fun at Jubilee Square. No need to book, just turn up. Sessions last for 30 minutes, skates, helmets and pads are provided oh, and it's totally free! Whoop Whoop!
Summer art workshops Kathryn Saunby, Melton Mowbray, 1-19 Aug
Let the kids creative juices flow in an art and sculpture workshop. There's a different project every day! Animals, portraits, landscapes, cityscapes, still life, abstract. Working in watercolour, acrylics, pencils, coloured pencils, soft pastels, charcoal, oil pastels, mixed media, ink and sculpture. £36 per one day workshop. 9.30-3.30pm.
'80s Workout Classes, 1-22 Aug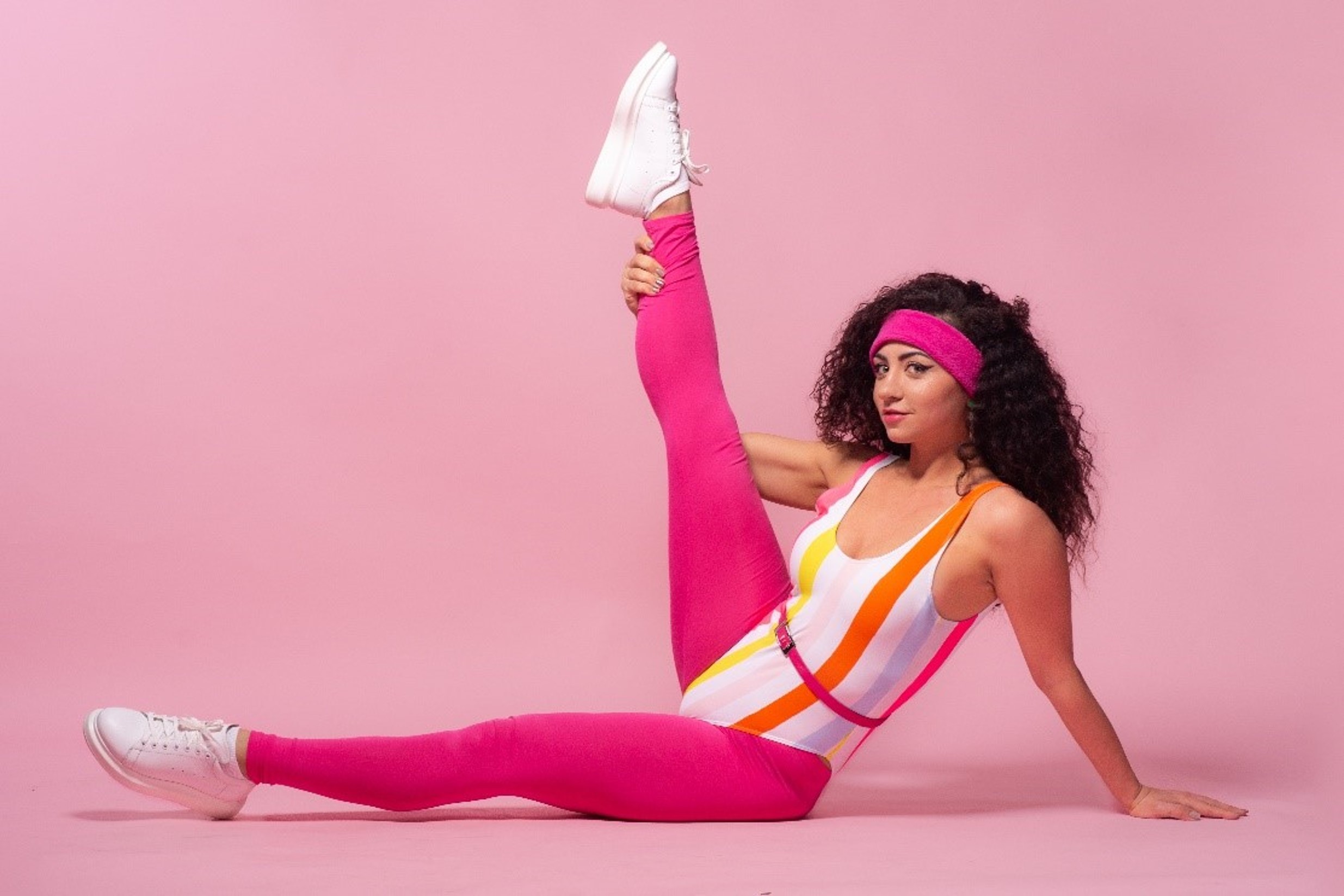 And now for something different! Join fitness instructor Kas Juniper for a fun workout based around a classic 80's style fitness class alongside some fantastic 80's music of course! Expect fun and lots of high energy. Leg warmers optional! £3 per person. Book in advance online.
Leicester Caribbean Carnival, 6 Aug
Get your whistles ready because carnival is back baby! The colourful event begins with the official opening ceremony on Granville Road at 1pm, followed by the free annual street carnival parade. Victoria Park will also be hosting a variety of activities and live music. Enjoy games, children's fun fair and sample the delicious food. Admission charge for the Carnival Village at Vic Park under 5's free, teens £2, adults £5 in advance, more at the gate.
Journeys Festival International, 12- 14 Aug
Journeys Festival International will fill the streets of Leicester with curious characters and superb street shows. This year check out Rush, a large scale street show (pic above), Frock, an uplifting dance riot and live jazz from the Liberty Orchestra.
Snap Dragon Children's Festival, Hinckley 3-5 Aug
Promising three fun filled days for all the family with free have-a-go workshops, crafts, magic shows, forest school, mascot races, story reading and more. Don't miss the giant sand-pit all at Argents Mead Park. 11- 3pm.
Chocolate Workshops, Aug
Master the art of being a chocolatier with Nenette Chocolates and try your hand at making your own truffles (£30). If you want to make the most of your experience, book the entire afternoon slot and take part in the The Chocolatier's Workshop (£150) where you'll learn how to use professional chocolate moulds and how to decorate your individual creations.
Rutland Belle Gin Cruise, 6 Aug
Enjoy your gin with a view on board the Rutland Belle this month. Take in the sights and sounds of Rutland Water including the iconic, Normanton Church while sampling a fantastic selection of different gins from well-known suppliers, including locally sourced, Multum Gin Parvo. Cruise also includes a gin cocktail, finger food, live music and even a quiz! 6-9pm. £45 per ticket.
Swim Rutland, 7 Aug
Safe, open water swimming in the heart of Rutland. Take part in the 500m, 2km, 4km or 8km swim across one of the countries most beautiful open water venues. Anyone can join and they even have a mini course for beginners or junior option. Kayaks, powerboats and stand up paddle boarders are on hand to ensure a safe and pleasant swim for everyone.
Summer Workshops at Rutland County Museum, 3-17 Aug
The kids will enjoy this watery themed craft session! Suitable for all ages, £2.50 per child (under 4s free).
Pride & Prejudice, Rockingham Castle, 11 Aug
Take a step back in time and meet Elizabeth Bennett and her sisters on their own quest for true love. Amidst mistakes and miscommunications, can Elizabeth finally surpass her prejudices to see past the proud exterior of the enigmatic Mr Darcy? Put together by Chapter House Theatre Company. Tickets from £10.
Much Ado About Murder, Belvoir Castle, 13 Aug
Don your detective cap and join in with some super silliness this month! The murder mystery will set five suspects under the spotlight, and will depend on the audience to find answers. Who was lurking in the corridor carrying a candlestick? When did the third gunshot go off – before or after the very silly song? And probably most importantly, why didn't you pack a larger picnic?Dress for the weather, bring a chair or blanket to sit on.
Artsters in the Park, Knighton Park, 3, 13 and 16 Aug
Three days of family friendly art fun over in Knighton Park! Enjoy big scale art, messy painting, water play and so much more! Book here. Sessions are £8 per child (siblings under 9 months are free!).
Wistow Maze, open from 18 July
This year to mark the Queen's Platinum Jubilee, the award-winning Wistow Maze has been designed in the shape of the 'Coronation Crown' and the Quiz Trail which is hidden amongst 3 miles of pathways, will showcase great innovations during her 70 year reign. As always, the maze includes an Activity Funyard full of mini-mazes and games for all the family.
Billy Elliot The Musical, Curve, until 20 Aug
Award-winning, world-renowned Billy Elliot the Musical gets a new look in this Made at Curve. It's the mid 80s. Thatcher is at her most powerful and in a small town in County Durham, a young boy falls in love with ballet. Based on the 2000 film, the story is about determination, acceptance and daring to be different. The electrifying musical features songs by Elton John including Solidarity, The Letter, He Could Be a Star and the show-stopping Electricity. Read our review here.
Talvin Singh and Friends, Curve, 20 Aug
Percussionist, producer and composer, Talvin Singh, beautifully bridges the gap between Indian and electronic music. Drawing Inspiration from the classical Indian arts, he has managed to sculpt a unique sonic landscape and taken the Tabla to the cutting edge with the most unimaginable creations. Enjoy a night of his music alongside fellow classical musicians in a one-off performance.
Half a Sixpence, Kilworth House Theatre, until 28 Aug
A new award-winning stage version of the musical comedy has been inspired by HG Wells' semi-autobiographical book Kipps: The Story of a Simple Soul. A completely fresh adaptation for modern audiences, it features songs including 'Flash, Bang, Wallop!', 'Money to Burn' and of course 'Half A Sixpence'. Tickets from £42.
Stamford Shakespeare, Tolethorpe Theatre, until 27 Aug
It's curtain up at Tolethorpe Hall and this year, where you can watch Shakespeare's immortal tale of star-crossed lovers, Romeo and Juliet and Spider's Web – a comedy 'whodunnit' from the Queen of Crime, Agatha Christie. Tickets from £14
Romeo and Juliet, De Montfort Hall, Aug 19
Opening their summer outdoor theatre season will be Romeo and Juliet, this much-loved story of star crossed lovers and feuding families will be performed in the gorgeous grounds (bring your own chairs) and feature full Elizabethan costume. Tickets from £12.
Glastonblaby, Leicester Lions Rugby Football Club, Blaby, 20 Aug
Growing bigger and bigger every year, this local music fest features a whole load of great acts including Chloey Rose, Nick Hart, The Collective Band, The Fazed, Jordan Eagles Music, Stevie Jones and The Wildfires, Big Phat Jukebox plus, performances from local charity, Soft Touch Arts. All money raised will go to four local charities.
​
However, do get your tickets early as last year we sold out..
​
This event will have some fantastic live music from many different artists throughout the day. Plus a wonderful selection of stalls selling food and drinks plus other items and fun things to do.
​
The aim is to raise funds on the day for 4 Leicestershire charities
Awful Auntie, De Montfort Hall 20 Aug and Belgrave Hall, 25 Aug
Adapted for the outdoor stage, this is one show you won't want to miss. You're invited to join in the dedication of the new playground at Saxby Hall and hear how it all came about. Make sure you bring a blanket or chair to sit on, weather-appropriate gear, and a picnic, as the tale could take some time to tell, and storytelling can be hungry work! Tickets from £12. Family tickets £45.
The Tale of Peter Rabbit & Benjamin Bunny, Bradgate Park, 18 Aug
Join Peter and Benjamin for a hair-raising adventure that will delight the whole family. An enchanting new adaptation of two of Beatrix Potter's best loved tales will be set within the grounds of Bradgate Park. Performance starts from 11am. Tickets from £10 or a family for £45. Dog-friendly seating available.
The Green Knight, Moira Furnace Museum and Country Park, 24 Aug
A raucous tale based on the Arthurian legend. Join the young Gawain as he journeys across ancient Britain, in search of the greatest sword-master of all time, Sir Bredbeddle, The Green Knight. 2pm performance and tickets from £10, family ticket £30.
The Reluctant Dragon, Moira Furnace Museum and Country Park, 27 Aug
When a boy finds a dragon up on the Downs he's not in the least surprised. He's always known about the dragon cave, so it seems only right for a dragon to be living in it. But this particular dragon is not a bit like the ones in fairy tales – this one writes poetry and doesn't like fighting! A touching, sweet and funny tale of bravery, friendship and derring-do for all the family.
Belvoir Castle Firework Champions, 20 Aug
A whole load of family fun with fireworks, laser shows, lights, drones, music food and drink and more! Now in its 14th year, right audiences can enjoy four great firework displays! Three of the UK's best firework companies compete against each other with a 10 minute firework display choreographed to music followed by a larger, finale display.
Music in the Gardens, Barnsdale Gardens, 28 Aug
Ann Duggan will be performing live in the gardens with her guitarist Rob Hines. Ann plays a little country americana, blues, rock, folk and jazz. While here, enjoy a pre ordered summer Barnsdale Picnic on the lawn.
Rutland Beer Festival, Oakham, 25-28 Aug
The 22nd annual Beer Festival gets underway this month and brings together a wide range of real ales from around the UK. Featuring over seventy Real Ales with an array of golden ales, stouts, bitters, porters and barley wines and a selection of traditional ciders. Bottoms up!
Brought to you with a little help from our Muddy award-winning bookshop Quinns, the festival will be filled with a variety of stall holders from local authors to crafters, artists to historical societies. There's also a schedule of author events for all ages throughout the day at £3 per ticket including Tamsin Winter, Jane Clarke and more. Taking place at the Congregational Church, Bowden Lane from 11am.